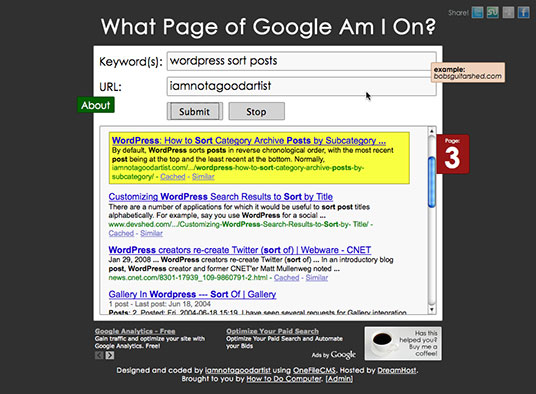 It's called "What Page of Google Am I On?" and is an SEO tool and web application for determining where a site ranks for a given query in Google.
Let's say that you sell propane and propane accessories. Your website is "propanetownville.com. You put "propane accessories" (no quotes) into the keyword(s) box, "propanetownville.com" into the URL box, and submit. If none of the first page of 10 results links to your site, the next 10 are queried, and so on and so on until your listing is found or the results are exhausted. Repeat to your heart's content!
All of this is magically accomplished with jQuery's AJAX function and a secret dash of PHP. Oh, the cleverness of me! Muhaha!
Notable notations of note:
Almost entirely coded in OneFileCMS, save for some more complex find-and-replacing for Google's CSS
IE6 Update script (More obligatory than necessary, especially with an unfortunately less savvy SEO demographic)
Validating XHMTL
Ads and a "Buy me a coffee" PayPal button (cuz billz don't be paying themselves, yo)
Share widget borrowed from OneFileCMS
Single page layout with a custom, jQ-positioned modal window for "About" text
CSS3 rounded corners
Century Gothic (aka best font ever)