I made this this morning and am very pleased with myself.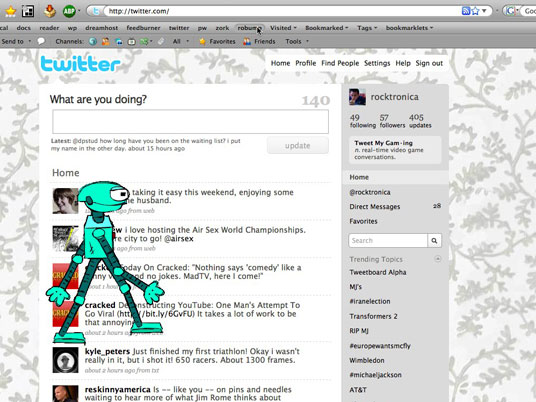 What is it? It's a bookmarklet to have my favorite robot, RoBump, walk across your browser! Drag the link into your bookmark toolbar like I have to enjoy it wherever you are on the internet!
Notes:
It's animated using the jQuery JavaScript library; props to Ben Alman for his jQ bookmarklet loader.
It doesn't install anything on your browser or computer and can be called from any place on the internet.
Made to time best with a browser 1440px wide; may walk funny in windows sized differently.
Reminds me of those emails people used to FWD me in junior high. ("Send this to 10 other people and a unicorn will dance on your screen! I DID IT IT WORKED!!")
Lastly, this post marks my 100th post to this site, so I guess I'm, like, officially a blogger now. Or something.