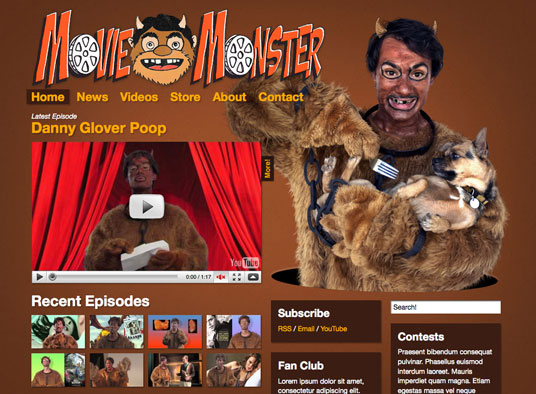 Movie Monster is the brainchild of Barry Holiday and is produced by Brock LaBorde of Studio8.net out in Hollwood somewhere. It is a semi-mostly-sorta-weekly review of recent movies, hosted by a monster with a garbly voice. So, you know, it's pretty much, like, the perfect thing.
My work for them was a custom WordPress theme with video integration, not unlike a couple of the others I made.
An Unordered List of List Items
Huge, rotating, background Movie Monster headshots on each of the main pages/categories with JavaScript to make sure they didn't mess up the page's width (without resorting to CSS overflow hiding)
YouTube integration with dynamic embed, "Share" embed code, and thumbnails
Subcategory-organized Videos category listing with jQuery "More!" and "Less" display
Contest category and page with YouTube integration
Multi-query front page with latest videos/blog posts and a jQuery sliding info panel behind the latest episode to conserve real estate
Two widget areas in the sidebar, three in the footer
CSS3 text and box shadows and gradient buttons
Mid-page ad code via Theme Toolkit
Movie Monster Favicon
An Easter egg (Grrr!)
Some of these I may dedicate future posts to in my "How To" category… We'll see. More on that later.
Link: http://www.ilovemoviemonster.com/
WAIT!
Before you go, watch this video Barry made sans monster costume.
I've watched that at least half a dozen times, and it's still funny to me.